Where Are They Now: The Strausses
Where Are They Now: The Strausses
"He came to Zachary's for his class ring stone...his family owns their own business so he loves to support small business."
Every now and again we have a chance to play catch up with our clients around the world. Today, we are keeping up with the Strausses. We first met Second Lieutenant Will Strauss when he came in to purchase a gemstone for his United States Naval Academy class ring. Like so many of our Naval Academy clients, Will and Lauren have moved several times in the past few years. So where in the world are the Strausses now? This May, Will and Lauren will move from Pensacola, FL to Corpus Christi TX for Advanced Flight School to fly Ospreys! Oh yes, we've got some pretty cool clients. The coolest if we do say so ourselves. ;)
These High School Sweethearts met at 14, started dating by 16 and have been inseparable ever since. With four moves across country down, this couple is ready for anything, including a life of military moves and deployments.
Where are you now?
We live in Pensacola, FL. We are moving to Corpus Christi in May for Advanced flight school training to fly Ospreys.
Catching Up with Will and Laruen Strauss.
In the interest of reminiscing, we asked Lauren, A.K.A Mrs. Strauss, a few questions: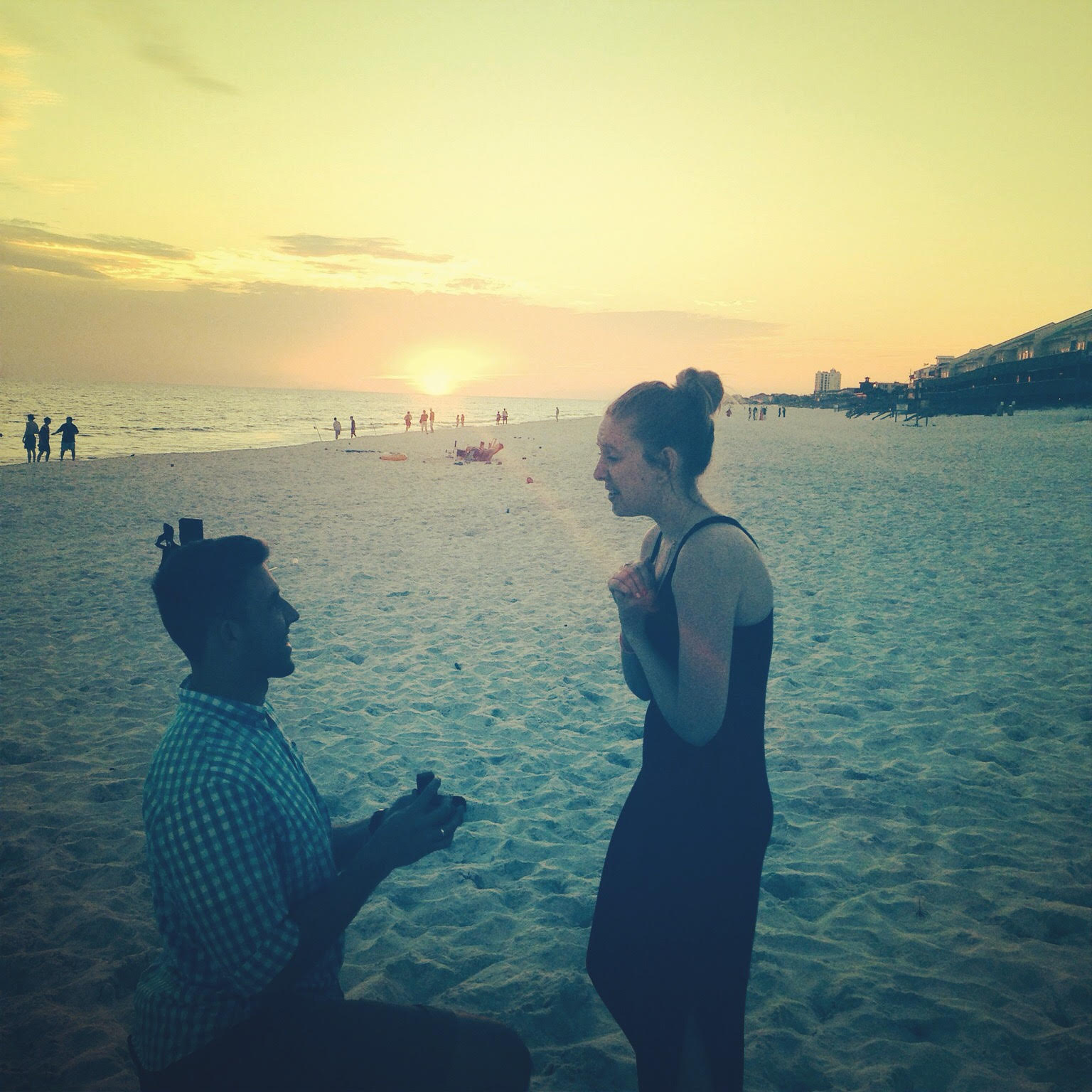 What was your proposal like?
We came to Destin, FL for spring break 2014 and the first full night we were there, Will & I and two of our good friends walked down to the beach to watch the sunset. Our friend Brandon said "let's take a picture of y'all!" We took a photo then Will backed away from me and got down on one knee and proposed :) it was perfect and adorable. I didn't cry until I called my mom to tell her we were getting married.
Had you picked your ring out ahead of time? Or did he do it all on his own?
We had come to Zachary's about 5 times to look and try rings on. I kept changing my mind over and over. The last trip we made we met with Nicki and she had me try on all of the ones that I had "loved" before. The very last ring she brought out ended up being the ring that Zachary's made into my custom engagement ring. Will picked out the center stone on his own, well with some help and a diamond lesson from Keith and Nicki.
When did you get married?
We got married just over a week after commissioning, May 30, 2015. We got married at home in Northern California, Napa Valley. It was the PERFECT day!
What was your favorite moment of your wedding?
Favorite moment of our wedding was dancing my butt off with friends and family. We sang at the top of our lungs and danced the night away. Loved every minute of it.
How many times have had to move throughout your relationship?
4 times when we get to Corpus in May, and expected to move 2 more times after that before we finally get a 3 or 4 year tour.
Do you think he will stay in the military for 20+ years? Or do you guys have other plans?
Right now the plan is to stay in for 20 years but every few years we will evaluate and see what works for our family.
Has it been hard on you and your career & social life?
It has been hard on my career for sure. Moving and having to switch what I do from place to place is hard especially because businesses see that my job history jumps around and they are less likely to hire if they don't know how long I will stay. Socially, it's been great! I have met so many awesome people and have friends all over the world. The Marine Corps is a giant family, and that is the best.
What inspired you to start your blog. (Amidst all the moving Lauren still finds time to blog about diet and nutrition.)
I got diagnosed with Ulcerative Colitis when I was 21. That changed my life completely, but my diet was a crazy change. I know how hard it was for me to navigate the gluten and dairy free waters so I figured why not try to help people like me. I love doing it, even though I slack on it big time sometimes.
Keep up with Lauren and snag Gluten & Dairy Free recipes @ Living La Vita Lauren.
Check out more Zachary's Love Stories: